by Tom McCloughlin

Crete is the largest of Greece islands and has endless things to see and do. Whether you want to get your hiking boots on and explore some of the islands natural wonders, buff up on your history knowledge at one of the ancient sites, or sample the wonderful food that the island has to offer in one of it's seaside towns there is something for everyone. We have picked out 5 things not to miss for newbies to Crete below…



1) Samaria Gorge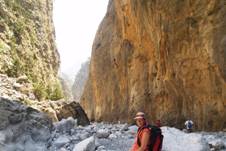 Samaria Gorge is one of the longest gorges in Europe at an incredible 16km in length. The area, found in the South West near Chania is a national park, is a haven for wildlife and plant lovers. Due to poor weather the gorge is mostly impassable in winter and so the walk can only be done in the summer when the weather is fine. The walk begins at Xyloskala at 1250m in the White Mountains and ends at Agia Roumeli where you can either take public transport back to the start point or in to Chania. Advice is to allow 5-6 hours for the walk and although this may seem long it is absolutely worth every second.

2) Ancient Knossos

Crete was the island where European civilization began in 7000BC before the Minoan civilisation ruled the island and the areas surrounding it between 2700BC and 1450BC. Knossos was the core of this civilisation and is nowadays the largest preserved Minoan palace. The palace is the former home of King Minos who according to ancient tales slayed the minotaur (half man, half bull) in the labyrinth.




3) Chania Old Town & Harbour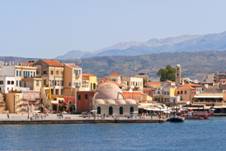 Chania is located in the North West of the island and stands upon the ancient Kydonia which was a thriving Roman city. Chania boasts an incredibly beautiful old town with many winding alleyways to enjoy getting lost in before stumbling upon some incredibly unique Cretan handicraft shops. The beautiful Venetian Harbour with many fantastic bars and restaurants to while away an evening watching the world go by. As well as just strolling around and enjoying the surroundings of this wonderful town/city there are two fantastic museums, the Archaeological Museum and the Maritime Museum.

4) Lake Kournas

Lake Kournas, the only freshwater lake in Crete is a site of incredible natural beauty. Sitting amongst fields and forests with the White Mountains in the background, the views from the lake are postcard perfect. Around the lake there are various tavernas perfect for taking a swim in the summer or hiring a pedalo to explore more of the great lake.



5) Lassithi Plateau

The massive fertile plain of Lassithi Plateau, in the Diktian Mountains covers an impressive 25,000 square kilometres. The plateau is most recognisable for it's covering of white windmills that were installed to help irrigate the fields. If you do take a trip to the Lassithi Plateau it is also worth visiting the nearby Dikition Cave, which is believed to be the birthplace of Zeus. The cave is about a 30-minute walk up a steep path and contains some incredible stalactites and stalagmites. Crete is a beautiful place to simply lie on the beach and soak up the sunshine, but there's much more to it than that. If you fancy a bit of activity on your holiday then the 5 suggestions above will keep even the most discerning traveller entertained!

---