Malta & Gozo's Best Beaches
Malta & Gozo's Best Beaches
Malta has a fantastic range of beaches for the holidaymaker, from big stretches of divine white sands to rocky coves perfect for swimming and snorkelling. Beaches with incredible red sands contrast wonderfully with the blue sea and lush green countryside, and blue lagoons with fantastically sparkling waters make the most picturesque of settings.
The bigger beaches on the island have facilities in the summer months such as toilets and cafes making them perfect for a full day out. Larger beaches also often have water sports equipment available to hire for times when you fancy a break from relaxing in the sunshine. For those who prefer a quieter and more secluded beach, a venture to one of the islands smaller and less accessible beaches will prove most rewarding. Malta's wonderfully warm annual climate allows for beach time from May to October and for those who don't mind the sea a little cooler, April can also see days of warm sunshine in the 20s where a day at the beach can be just as appealing. The islands small size makes all of the beaches on the islands easy to travel wherever you are staying. We have picked some of our favourite beaches below for you to find out some more…
---
---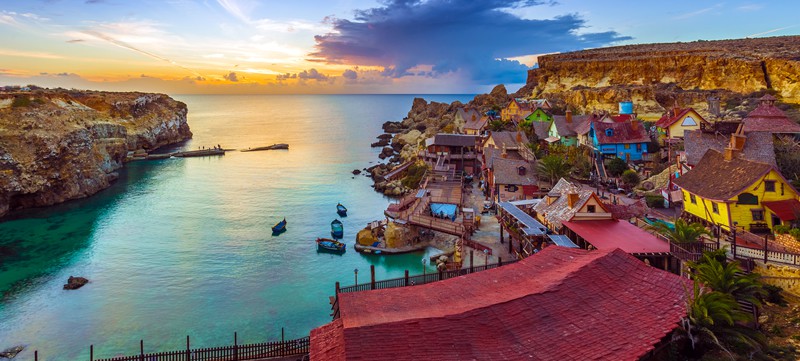 Mellieha Bay:
The biggest of the sandy beaches in Malta, Mellieha Bay has beautiful white sands and the shallow crystal clear waters are great for children.There are sun beds and umbrellas available to rent as well as watersports equipment and pedalos. Snack bars and cafes are aplenty to purchase refreshments from to keep the kids happy. Due to its popularity as one of the best sandy beaches in Malta, the beach can get busy in the summer but nonetheless it is still a great family day out.
---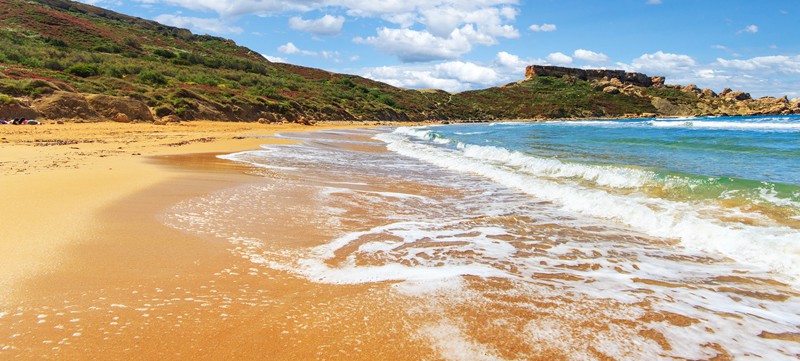 Ghajn Tuffieha:
Ghajn Tuffieha (the Apples Eye) is situated next to one of Malta's most popular sandy beaches, Golden Bay, and is a welcome retreat away from its busier neighbour. Access to the beach is down 180 steps which makes it not the most accessible of beaches and this perhaps is the reason that it has remained so unspoilt and rural. The beach is becoming increasingly popular for surfers and watching them take on the surf whilst listening to the waves crashing against the shore is magnificent. When Ghajn Tuffieha gets calmer in the evening it is a beautiful place to watch the sunset and soak up the incredible changing colours and views out to sea.
---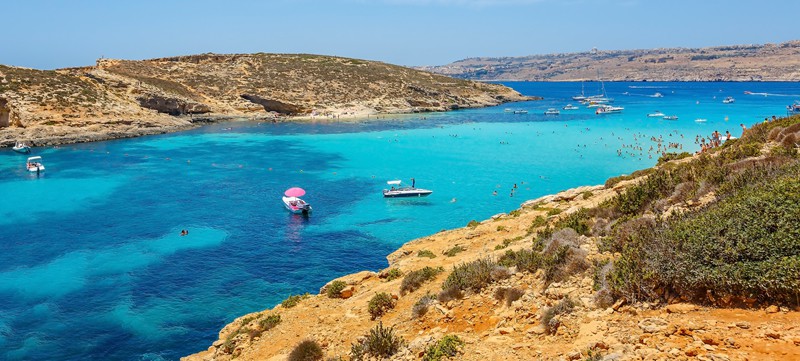 Blue Lagoon:
One of the most iconic beaches in Malta is the postcard perfect, Blue Lagoon. The Blue Lagoon can only be reached via boat and the incredibly blue waters leave many visitors lost for words on arrival. Although it can get very busy during summer months, this does not take away from its appeal. Swimming in the crystal clear waters is incredible and perfect for snorkelling and spotting some of Malta's diverse marine life. There are a few kiosks to buy drinks and snacks at the beach but many people choose to take a picnic.
---
Hotels in Malta
A small collection of our Top Hotels in Malta for you to check out...