One Of The Seven Wonders Of The World
One Of The Seven Wonders Of The World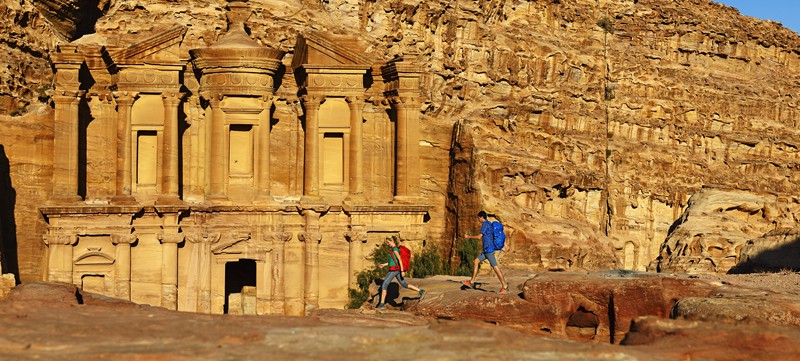 Walking Through The Length Of The Lost City
Petra is famous for its unique and vast mausoleums, and even with the endless blogs, pictures and videos available on the World Wide Web, it will always fall under the category of 'You must see it, to believe it'. It is without question, Jordan's most iconic and popular touristic attraction with millions of visitors from around the world, coming together to appreciate one of the greatest wonders ever shaped by Man and Nature.

Upon entrance to the City of Petra through the "Siq", a slender gorge which spans over 1km in length is flanked on both sides by towering 80 meter high cliffs, with the rewarding first glimpse of the Treasury, also known as the Al-Khazneh. It would take around 4 full days to fully experience the City of Petra, leaving no stone un-turned, from the impressive 3,000 seat capacity Roman-style theatre, to the ancient Temples and Monasteries.
---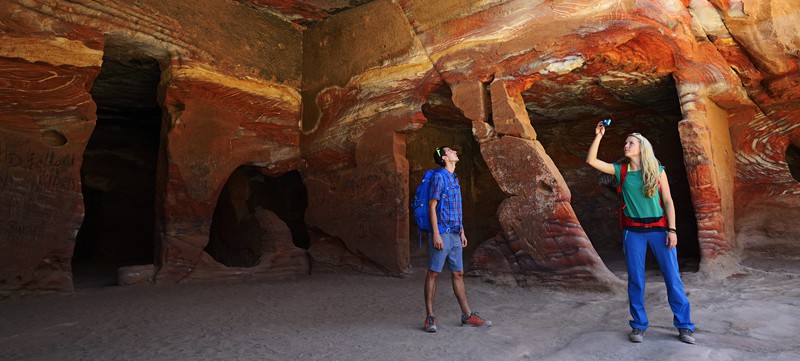 A Treasure Chest For Those Interested In Ancient History & Culture
If archaeological museums and discovering ancient history is your passion, Petra should most definitely feature in your next holiday adventure. With two fantastic museums in the heart of the City, both displaying local finds from excavations and a colourful insight into Petra's lengthy and exciting past. Not to mention the 13th Century shrine built for the brother of Moses, Aaron, which is easily visible from the top of Mount Aaron in the Sharah range. Located inside the site, tourists have the chance to purchase plenty of Petra memorabilia including Bedouin Jewellery, Handcrafted ornaments and multi-coloured sand bottles collected from the local area.
---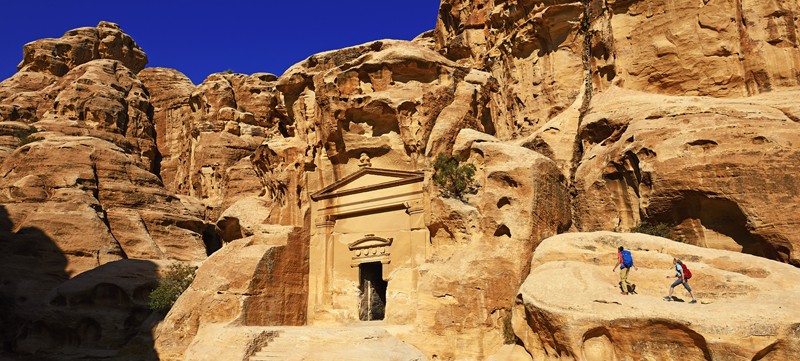 Something For The Adventure Seekers Too
Petra is not just a one trick pony, for those interested in archaeology and ancient history but also for tourists who love to indulge in exciting outdoor activities. Hiking holidays in Petra are very popular due to the beautiful hiking trails in and around Petra that surround the mountainous region close to the valley of Arabah that runs from the Dead Sea to Gulf of Aqaba.
---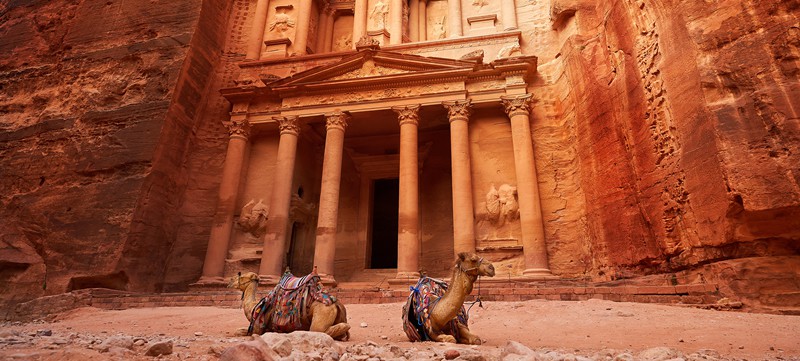 Take The Full Jordanian Experience
Our knowledgeable and friendly tailor-made team can ensure that you make the most of your precious time in Jordan, from Luxury 5 star hotels to in-depth and complete Guided Tours of Jordan, we have got all bases covered. Alternatively, stay at one of the Top 5 Star hotels in Petra and explore the infamous City of Petra at your own pace and leisure.
---
Hotels in Petra
A small collection of our Top Hotels in Petra for you to check out...