7 Fantastic Restaurants To Try In Santorini
7 Fantastic Restaurants To Try In Santorini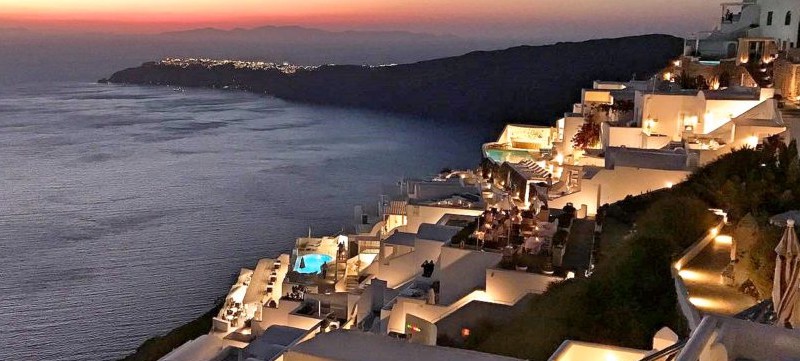 Athenian House, Imerovigli
Athenian House effectively combines old fashioned charm with modernity, with its white washed walls, exposed stone, touches of glamour and contemporary styling. Add to this a breath taking Santorini sunset and inspirational food and you have Athenian House. The food is to be admired, using new ways of Grecian cooking. Dishes such as; fresh squid stuffed with pine nuts, lobster and beetroot risotto and beef rib eye with pastourma butter await you.
---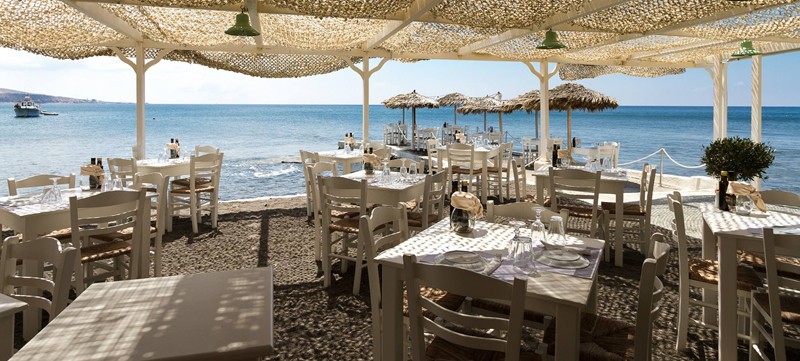 Asterias, Red Beach, Akrotiri
Asterias, aims to 'awaken the senses' through flavoursome food and the sound of the sea. This is certainly achieved with its ethereal atmosphere, which makes you feel completely at ease and at one with your environment. The tables are located right on the boardwalk on the sea making it rather magical in candlelight. If you enjoy seafood this restaurant is a must, serving incredible fresh octopus, prawns, lobster pasta and tuna steak.
---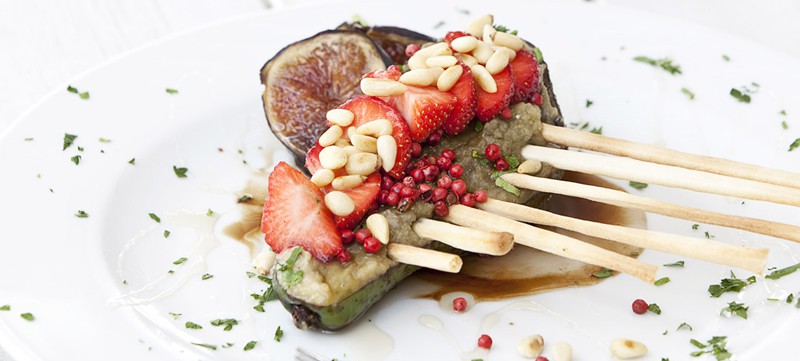 Sea Side By Notos, Perivolos-Agios, Georgios Beach
Located on the picturesque Perivolos beach this is a fairly unique offering, which consists of a beach restaurant serving gourmet fusion cuisine. With its neutral backdrop and built in sofas, it is perfect for relaxing whilst soaking up the sea views and listening to the ethnic lounge music. The food is inspired and new-age, whilst also celebrating traditional recipes with new touches. The marinated tuna with guacamole or moussaka with shrimp and crab meat are amongst some of the specialties here.
---
Santorini is home to some of the finest Greek restaurants, with stunning views overlooking the Caldera. From Sea food to Greek style Meze's, you wont leave feeling disappointed...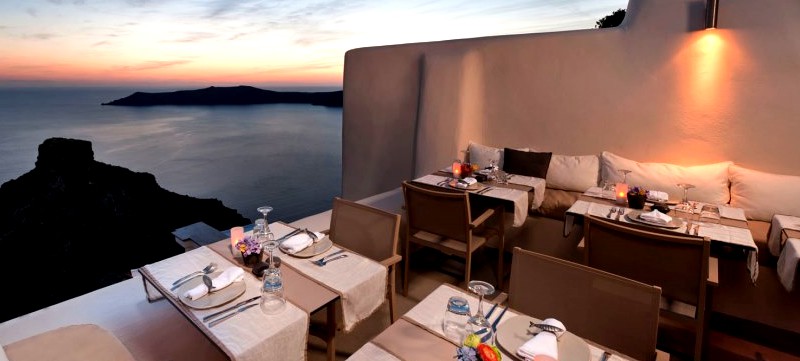 Kapari Wine Restaurant, Imerovigli
Overlooking the Caldera, this fine dining restaurant is perfect for a romantic meal for two. Be sure to request and outdoor table to enjoy spectacular views of Aegean Sea. The restaurant offers impeccable friendly service with imaginative Grecian food using local ingredients. The menu boasts mouth-watering dishes such as; seafood ravioli, rack of lamb, and filet mignon.
---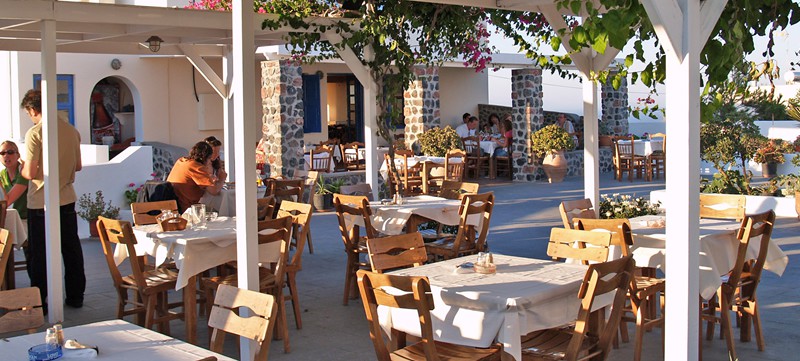 Anemomilos, Fira
Set a little off the beaten track in Exo Gonia with views overlooking the Kamari. Anemomilos is all about home-made, traditional food packed full of flavor at a reasonable price - all delivered with a friendly, welcoming service. It taps into the social and relaxed style of Santorini and is often frequented by locals. The food on offer is mostly small sharing mezze style plates such as hummus, pitta and giant beans.
---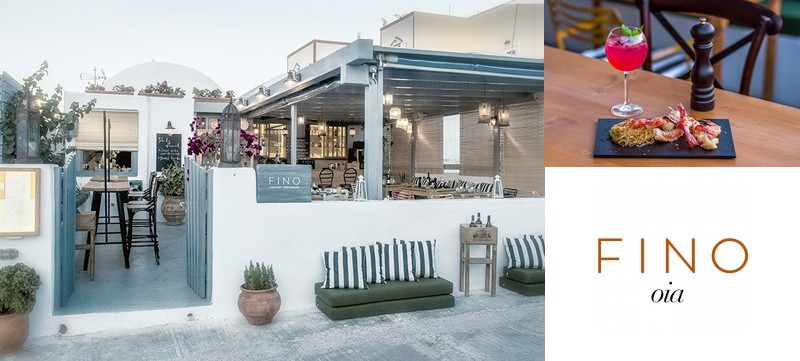 Fino, Oia
The styling of the restaurant combines a cosy atmosphere with some contemporary touches. Inventive and modern food is served here. Lobster risotto, chicken fillet with a chorizo crust or lamb ribs with a tabbouleh salad are all the sort of dishes you can expect to find on the menu. Sip on Fino's own signature cocktail with Blend Rum, Amaretto, Passion Fruit and Lime as you await your meal.
---
Terra Nera Grill And Coffee House, Perivolos Beach
This relaxed family run restaurant located on Perivolos Beach clearly takes pride in its excellent service, homemade food and the type of hospitality you would expect from old friends. You're sure to leave feeling pleasantly revived. The menu is varied to suit all tastes. Try the delicious breakfast waffles with chocolate sauce or frozen yoghurt or for dinner a delicious burger, pasta dish or home-made pizza. Note, Terra Nerra is open during the summer season only.
---
Hotels in Santorini
A small collection of our Top Hotels in Santorini for you to check out...